A Tandem across the Andes
or
Some highs and lows in Patagonia
Chris and Mike Simpkins
Beware Christmas presents that seem a little, well…, odd. 
Two years ago I received a climbing guidebook to Sardinia in Italian and German (languages that I don't speak) and ten months later I found myself on the island, having a wonderful time.  2002 brought 'The trail to Titicaca' and I should have been warned.  Cycle touring in South America was the subject, but at least it was written in English.  We had a practice cycle tour around Anglesey – two nights under canvas in glorious sunny weather – and then, in November 2003 we were off to Chile for five weeks, plus tandem, to cycle over the Andes to Argentina and back again.
Mike plans these trips, sitting on the computer and poring over Lonely Planet guides.  A Spanish computer course and a phrase book also absorbed his time.  I just pedal on the back, enjoying the views………..
The Technical bits
The idea for the trip came from a backpacking journey by some friends.  With the aid of the Encarta Computer World Atlas and a couple of Lonely Planet Books I made a rough plan for the tour.  Later we received a brochure from Saddle Skedaddle, an excellent cycling holiday company that we had used in Mexico.  They offered a similar supported trip to Chile, which seemed ideal until the central heating system collapsed and all our money disappeared.  We also had lots of advice on cycle touring from Luke and Becky our Regional Officers.
<![if !vml]>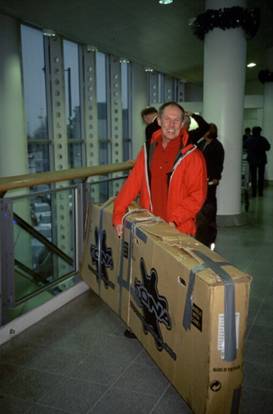 <![endif]>
We did have some vouchers from American Airlines, (we were 'bumped' the previous year), that had to be spent.  This paid for most of the airfares but meant we had to fly via Dallas, Texas.  The flights were booked by Trailfinders who were very professional and saved us money and hassle.  We were to fly Manchester to Gatwick, Gatwick to Dallas, Dallas to Santiago Chile, and Santiago to Puerto Montt.  On our return we would fly from Temuco back to Santiago and then reverse the process.  As the American airlines like bikes boxed we had a problem, particularly as we were to fly in and out of different airports.  The simple solution was two ordinary bike boxes from our local shop.  The ends were cut off, and slid onto the tandem from either end.  A good strong tape completed the job.  The tyres were semi deflated and we removed the pedals, handlebars and saddles, these also went in the box.  The box was a bit battered after the four outward flights, but had protected the bike well.  For the return journey we found a bike shop in Temuco, showed the tandem and asked for 'dos cajas' which enabled us to use the same system on the return flights.  It is possibly the only solution if you are planning a tour from one airport and returning from another.  The big box caused a few funny looks and many questions at the airports.  At first I found it big to handle but soon worked out a good technique.  
We carried spare tubes, a tyre and a couple of temporary spokes plus a reasonable selection of tools and a supply of cable ties.  Our Orbit Pegasus tandem was magnificent.  The only problem we had all trip was a broken bracket on one front carrier, probably as I had failed to spot it working loose.  Three cable ties sorted it out and lasted the rest of the trip.  Our Karrimor roll top panniers kept our gear perfectly dry, no small task in the conditions.
Some Statistics
We spent eleven days in Argentina, twenty in Chile and the rest in airports or on planes, camping for just one night.  Eighteen days were spent cycling.  We covered some nine hundred and sixty kilometres with about four hundred kilometres of that on dirt tracks.  We fell off twice, once on a wet bridge once after snaking in deep sand. 
The journey
Probably the first high of the trip was finally arriving in Puerto Montt to find the tandem undamaged.  It was raining, but not much.  Twenty two kilometres over dirt track brought us to our first stop at Puerto Varas where we found out just how easy (and cheap) accommodation in Patagonia was to be.  The following day was clear and sunny and we saw our first volcano – Osorno.  Now this is not a day one to day thirty four sort of account but the sunshine/volcano view is relevant to the story.  It was to be another seventeen days and five hundred and eighty kilometres before we managed to hit the jackpot again!  We passed a lot of volcanoes, but never quite got to see them because of the low cloud and rain!
Wet in fact sums up the days we spent in Chile.  Not having really listened to Mike explaining the plans meant I hadn't really registered the Patagonian Lake District with its temperate rain forests.
<![if !vml]>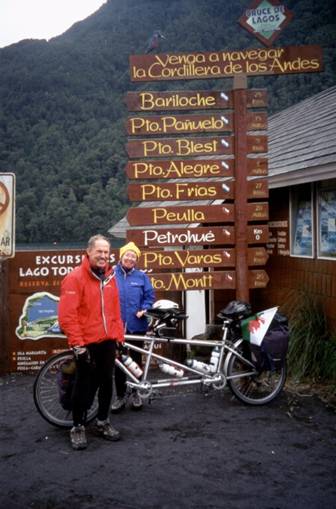 <![endif]>
Our first journey into the mountains was a mixture of highs and lows, both physical and emotional!  Starting at 50m above sea level at Lago Llanquihue we set off towards Paso de Pérez Rosales at 1022m.  The route was first used by the Jesuit missionaries picking their way across the mountains linking a series of lake crossings.  Nowadays it is a 'tourist trip' using buses and ferries.  The buses do not carry bicycles under any circumstances so we were on our own.  Up to Lago Todos los Santos was pleasant, dryish and mostly on surfaced road.  Crossing the lake by catamaran through spectacular mountain scenery was easy but then came the real offroad experience.  Leaving our fellow travellers to eat and drink at the hotel we set off from Peulla in the rain along too many kilometres of unfortunately flat track through stunning farmland and forests.  It was unfortunate because we weren't gaining height as we cycled, which meant that the 'up' bit was going to be steep.  And it was!!  The first bus passed us at the foot of the pass – and the guide recognised our Welsh flag and was pleased to tell us that England had won the rugby world cup!  So far, so good.  There were four more buses to go past carrying the tourists before the last boat from Puerto Frias would leave.  We flogged on, continually up, over a rough stony track which seemed to turn into a stream bed every now and again.  Every time a bus came through we had to pull in since they couldn't stop – which meant pushing until we could start up again.  It got steeper and steeper.  We made a discovery that experienced tandem cycle tourists probably know – it is easier to be pushing /steering the bike from the front, letting the stronger person (i.e. Mike) push from behind.  This helped raise the spirits a little, but by the time the last bus had gone past and the rain had got even heavier, energy and enthusiasm levels were at quite a low ebb!  As we neared the summit we were able to ride more, until finally, after about eight steep kilometres, we reached the top.  No stopping!  No photos!  Straight on down was probably (from the stoker's point of view) even worse.  After four scary kilometres hurtling round the bends we reached Puerto Frias and there was no boat to be seen so it looked like a very wet uncomfortable night on the jetty until….
A real high point of the trip!  This was the Argentinian Customs post and inside was the last ferryload of tourists!  Heaven!  Our friendly guide from hours ago took over, arranged for our documents to be filled in/sorted out and put us by the stove to drink hot chocolate with brandy.
I will never again complain about how long customs officials can take to process entry to their country.  Eduardo, the guide, decided we would probably be better off staying in the next hotel so radioed ahead.  After another boat ride and three kilometre dash to Puerto Blest we fell into the hotel really pleased that we had made it.  It had been fifty kilometres and 1220m of ascent/descent but successful.  And yes, conditions were so bad that they offered to put the tandem on the bus to get us down to the hotel, but we declined – and after having had lots of photographs taken by the tourists decided that we were heroes indeed!
Another boat journey and short ride and we arrived in Bariloche.  The guidebooks tout Bariloche as the tourist destination and it is - full of shops selling fleece garments and not particularly good chocolate, busy with traffic and noisy at night.  We left, glad to go back out into the countryside, and even beginning to enjoy some of the dirt roads. 
<![if !vml]>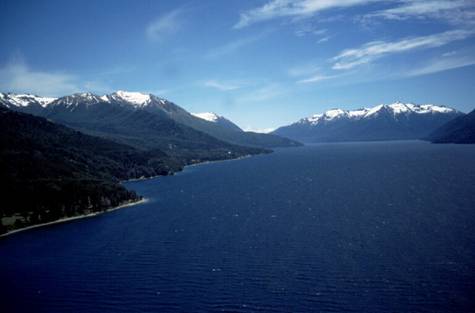 <![endif]>We picked our way north through Argentina, sort of following the Ruta de los Siete Lagos (Seven Lakes Route), but not on the main roads, past impressive snow topped mountains and deep glacial lakes.  The sun shone but it was rarely hot.  Sometimes the head winds made progress slow but we steadily cycled through Confluencia and Villa Traful to San Martín de los Andes ending up in Junín de los Andes.  Argentina had been very welcoming and the currently very low cost of visiting means we could well go back!
<![if !vml]>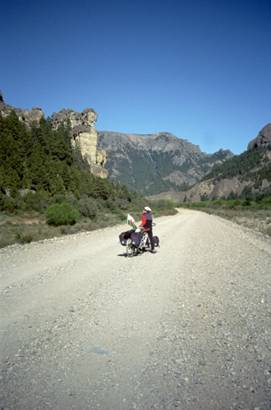 <![endif]>After two days rest in Junín we headed back into the Andes, and set off for Paso Tromen (known as Mumuil Malal on the Chilean side) travelling into more barren mountains than we had seen before.  Starting on tarmac we swiftly cycled through quite rich farmland, but then turning offroad everything felt more remote and wilder than further south.  It took all day to reach the camping area on the shoulder of Volcán Lanin (3776m), forty five kilometres of sometimes very loose and sometimes very sandy track.  The weather got more and more grey as the day went by, and as we got the tent out, yes it started to rain.  After a comfortable night we got up to find snow in the air – no sign of the volcano but lots of parrots squawking in and out of the trees, and feeding on the campfield.  We hadn't quite reached the top so set off in heavy rain to our next high point - Paso Tromen at 1207m.  Eight hundred metres of ascent over sixty six kilometres had been quite gentle; going down was likely to be much more exciting!  Cycling through the Araucania (monkey puzzle tree) forest it got colder and colder until we were grateful to drop down and reach the Chilean customs post.  Now Chile does not allow animal based foodstuffs to be imported which meant we had a very peculiar bag of food left – margarine, salt and jam mostly – so we were very relieved to see a small café further down the track.  There was smoke coming from the chimney which looked promising but the door was locked.  Turning away, very disappointed, a low point suddenly rocketed to a high!  We were called back – into the fireside and offered warm ham and cheese sandwiches, and tea.  Bliss!  It seemed very odd to have a café in the middle of nowhere but that was soon solved when a bus arrived and emptied about sixty people into what was the 'comfort stop'.  These tourist buses were a real problem for us on the dirt roads, kicking up dust and stones but this one I was ready to forgive.
We set out again braving the rain and carried on down ever increasingly steep track.  In fact it was one of those times when the stoker rebelled and insisted we walk down, not pushing the bike just holding it back.  Suddenly a car coming up the stream screeched to a halt and people jumped out, running towards us.  One was carrying a large misshapen bag.  I was very confused but Mike took it all very calmly.  It wasn't kidnappers, it was Chilean National Television and they wanted to interview us.  Whatever we said was going to be dubbed any way so I asked for some sun and views of a volcano!  Onwards down and down until at last we reached a surfaced road and set off for Pucón.  Our TV friends had not deserted us.  As we sped along we realised they had set up a camera on the roadside and were filming us – full waterproofs and all.  A little later they chased us with the camera out of the car window focussed probably on our wildly flapping flag.  Fame at last but we didn't see it and probably never will!  After fifty or so wet kilometres Pucón was still thirty kilometres away when a sign for thermal baths, just two kilometres off the main road caught my eye.  It seemed like a good idea so that night we stayed in a fairly posh hotel and lounged in the outdoor pools which were so warm that it didn't matter that the rain was still falling down on us!
<![if !vml]>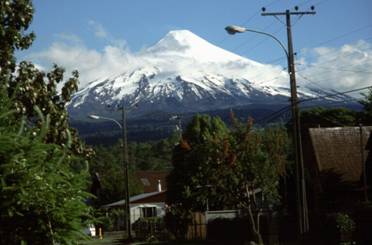 <![endif]>Pucón is a laid back town, the centre of the Chilean 'adventure tourism' industry.  This means it is full of backpackers of all ages looking for an adrenalin rush and alcohol.  There are dozens of hostels and laundries and cheap eating places and bars and tourist agencies.  This makes life easy and as the weather was improving we stayed.  In fact we decided to do the volcano!  So in bright sunshine (it was Mike's birthday after all) we joined our tour group, donned our boots waterproofs and carrying crampons and ice axes set off up Volcán Villarica (2847m).  Following in the footsteps of our guide we summited to find that we couldn't see the lava in the caldera because of the smoke and fumes coming out.  Nevertheless it was a live volcano and fun!  A definite high point of the trip!  That night we went with our fellow adventurers to the thermal pools.  Much more exciting than the thermal baths – it was in the dark for a start and packed with young(er) people drinking wine and smoking heaven knows what.  Mind you, spending money on tours and mini buses couldn't go on for ever so we decided to head for the coast and see the Southern Pacific.
The next day it rained.  Not just a little.  All day and heavy.  Still by now we were used to it so off we went to Villarica, to stay in a hostel run by round the world cyclists from Switzerland, Beat and Claudia.  Beat explained that the Trans Pacific Highway, which we had so far tried to avoid, wasn't at all bad for cycling, at least on the stretch we needed to do and the coast was worth visiting.  He refused to comment on what the weather might do.
What it did was squalls, heavy squalls with strong winds coming in followed by hot bright sunshine.  This meant that we spent all day getting wet and drying out and heading west into the wind, which was steadily blowing stronger.  Eventually, after one hundred and twelve kilometres, our longest day, we made it into Mehuin to see a glorious sunset over an empty beach with dramatic sea stacks being pounded by the breakers.  Conditions had got so wild that several vehicles had stopped and offered us lifts, which had not happened before.  Over the next two or three days we realised that we had moved off the gringo trails of Lonely Planet land and more into the real country.  The people were friendly throughout Chile, but along this coastal strip they were intrigued with the tandem and really curious about us.  There was a mix of European style farms and small communities of the indigenous people, the Mapuche.  Later, in Temuco, we learned more about the Mapuche, their history and way of life, which added to the enjoyment of the trip.  Most of this southern part of South America has been settled by Europeans and looked and felt 'familiar' so although not part of the original plan this side trip turned out to be particularly good.
<![if !vml]>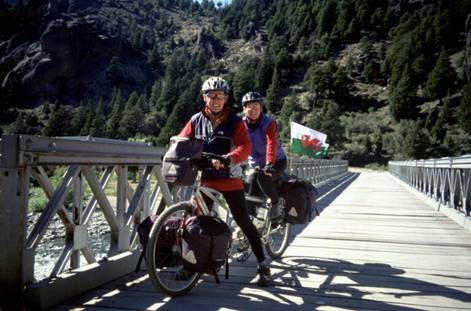 <![endif]>We picked our way north along wide estuaries through fertile farmland in beautiful sunshine.  Lago Budi was our destination and the bird life there was as good as had been promised by the guidebooks provided by Beat in Villarica.  On our next trip we must make more of an effort to get information from the local sources!  The next day we crossed the lake by a free ferry and cycled to Puerto Saavedra (a popular Chilean tourist spot – quite different from Pucón and its foreign visitors).  We then turned to the east and with the wind behind us at last headed for Temuco and the end of our first real cycle tour.  A brilliant trip!
And what book did I get for Christmas 2003?  Well that may be another story…….!