Pen Ceunant Uchaf, Cwm Brwynog, Llanberis
This article was written as part of the celebrations of the Chester Mountaineering Club's fiftieth anniversary - 1953 to 2003. Pen Ceunant Uchaf (PCU) is the cottage that was purchased by the club in 1967. It is situated to the south of Llanberis, on the road leading from the Royal Victoria Hotel towards Snowdon.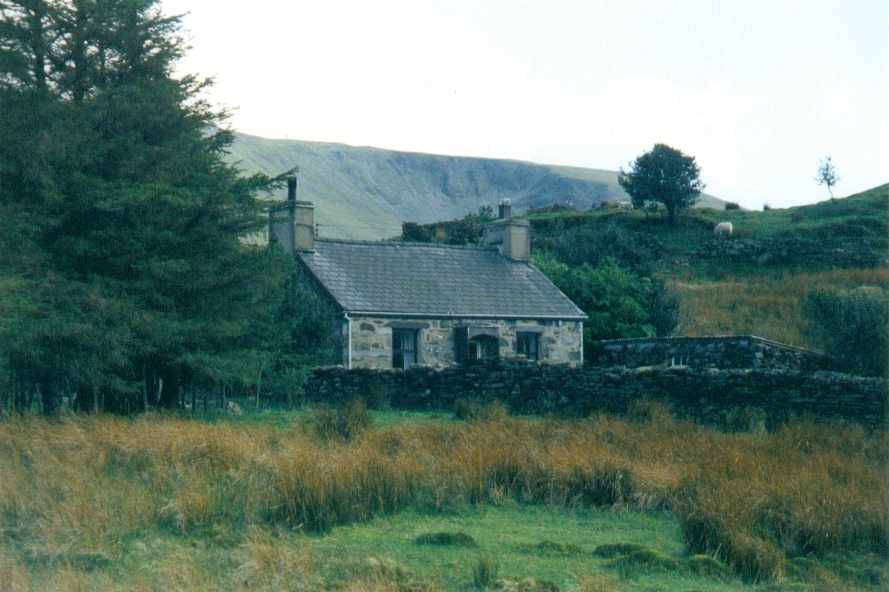 Pen Ceunant Uchaf May 2003
THE STORY OF PEN CEUNANT UCHAF
So there I was, December 2000, newly moved, just over the hill from PCU, full of millenium spirit and weak minded. "Yes" I said to the chairman, "I'll volunteer to look at the history of PCU – easy now I live down here, just a morning or two at the Records Office……….." So a year later I went on an afternoon visit to the Archives, fascinating place, lots of interesting documents and I found out how to drive various pieces of equipment to view said documents. Oh and I spent quite a lot of time learning Welsh (again,) this time well enough to be able to read the documents, at least with the aid of a dictionary!
Then suddenly it was mid November 2002 and now things were beginning to feel a bit more urgent. I finally gave into the guilt one morning and went to the reference area in Caernarfon library and searched the shelves. Very little was of any use for my task, just a few general bits and pieces. "Good" I thought, "a quick look on the web and at place names and what have you and that will do." To be fair I had a book "Pobl tu ucha'r giât", in Welsh, by Rol Williams on the history of Cwm Brwynog which I had looked at, but it was hard, and there were only three lines that were anything to do with PCU and I reckoned they were wrong anyway, so another morning and I'd have cracked it.
How wrong can you be? I am now totally hooked. In fact I quite resent having to stop going to the archives to write this up so you can read it. I know it was beginner's luck, but even so, there are many unanswered questions that I might sort out given the time. There may be gems of information emerging for months to come………but anyway, here is the start of the story.
In the leaflet that I had been given on that first visit to the Archives the deeds of the property and maps were the suggested starting points to trace the history of your house. These were duly found, (nothing new there but interesting,) and I found the maps. Large scale OS maps for Llanberis were first published in 1889. The Cwm Brwynog sheets were easy to find and hooray! there was PCU, quite clearly marked with the field numbers and acreages at the time. By 1914 the Snowdon Mountain Tramroad had arrived, the field numbers had changed but the acreages were much the same, so not really very useful, but interesting. The area of Pen-y-Ceunant was/is bounded to the North by Coed Victoria, to the West by the Afon Hwch (roughly between Ceunant Bach and Ceunant Mawr), and as far to the East as Tai Cwm Brwynog. The Southern edge is marked by a wandering field wall. Onwards then to the next recommended map – the Tithe map of 1840. The agreement for the commutation of tithes showed that the whole area around the Victoria Hotel including Penyceunant was listed as 'Victoria Hotel lands', owned by Thomas Assheton Smith Esq. and occupied by a Mr. Edward Green. The quantity of land in statute measures was a total of 353 acres, 3 rods and 34 perches (!) and the tithe was to be paid to the Rector, the Reverend Henry Bailey Williams. There were, however, clearly no properties marked between the 'Cart road for Clogwyn Coch mine work' and the river – so no PCU at this time.
Where next then?
According to my leaflet, estate papers were the next line of research. I knew that PCU had been part of the Vaynol Estate so there would be something useful to be found. It was decided that the appropriate survey was that of 1869 and Volume 3 covered Llanberis. A huge leather bound book was brought on a trolley – it took two of us to lift it onto the table! Inside were the most beautifully hand drawn and painted maps I have ever seen and yes, there was Penyceunant. The survey had been undertaken to mark the coming of age of the owner of the estate, George William Duff Assheton Smith, and had started in 1864. All his landholdings were there, measured and valued, stretching from the shores of the Menai Straits to the top of Snowdon and beyond. There were two tenants recorded for Penyceunant in 1869, Margaret Griffiths at Pen Ceunant Uchaf (PCU, our hut) and Owen Williams at Pen Ceunant Isaf (PCI, the café down the road). All the fields and their names were listed, including the area of the house and garden at 3 rods and 19 perches. The Valuer writes that at PCU "All is in very good order and neatly kept." The land was 'rough pasture' or 'hay' and the total annual value was £5-15-0. A lease was drawn up between Margaret and the Estate on May 10th 1869, but dated back to 12th May 1868, with very detailed conditions as to how the land should be farmed. Similar details were recorded for PCI. What a hero I felt, having found a name and a date!
The last step according to my pamphlet was to consult any Sale Catalogues – easily done in this case as it was such a huge sale. The catalogue was prepared by London based Auctioneers, Bernard Thorpe and Partners, and was to be held at the Royal Hotel, Caernarfon, Friday 28th July, 1967 at 3pm. The details of the cottage are recorded as "A single storey detached cottage with three rooms, kitchen and parlour. Well water and electricity." The outgoing tenant was Mr. O. T. Hughes and he had paid an annual rent of £12. Well, PCU didn't come to auction, being sold through the Chester Agency of Jackson-Stops and Staff but that is not part of this story. Now this had taken about four or five mornings to find out and afternoons to sort out, but the bug had bitten and I wasn't going to stop now! Back to my useful pamphlet….."One aspect of the history of a property is those who lived in it."
So, onwards to the Census Returns!
Now looking at census returns involves microfiches and microfilms and magnifying glasses and lots of twiddling of knobs to get things the right way up and clear enough to read and then reading through acres of Victorian enumerator's handwritten script. Actually I started in 1901 (the latest returns available) and went backwards to 1841, but since I don't want you to be as confused as I was I'm going to write it the other way round.
To get things into perspective: in 1831 there were 725 people living in the whole Llanberis parish area; by 1886 the population had risen to around 3000 and today it is about 1900.
The earliest tenant recorded by the census at Penyceunant is Robert Phoulk (more likely Foulk(es) – which is still a fairly common surname in Llanberis and Llanrug). He was 35 in 1841 and was a lab(ourer). His wife was Margret (30), and they had three children – Jane (6), Mary (4) and ?John (1). Their place of birth is not recorded, but it is within the same county. Nevertheless it is quite unusual to be able to find and name people from the 1841 census so this was exciting!
A family that lived in Penyceunant for at least 38 years covered by the census returns from 1851 onwards was William and Margaret Griffiths.
In 1851 William Griffiths and his wife Margret were the tenants of the only house in Penyceunant. William was aged 40 and his occupation was that of a 'Keeper'. Margaret, then aged 31, looked after the children and smallholding. They had five children, Jane (11), Mary (8), Margret (6), Robert (4) and William (2). Jane was a scholar, most probably at the day school at Capel Coch in Llanberis. (In 1849 equipment and tables had been purchased by the chapel, and by 1854 a teacher earning £45 a year taught 61 pupils reading writing and bible study.) It is not recorded that the younger children were at school, but later letters written by them suggest that they were all educated. All the family were recorded as having been born in LLandwrog, Carnarvon. It is important to note that there was only one dwelling listed at Penyceunant.
By 1861 William has become a 'Forester', with Margrate unchanged in role, if not in the spelling of her name! Jane, now 21, is a house servant. She is recorded as a daughter of the house so may have been working either for her parents or elsewhere. If elsewhere, this has not been noted. Margrate (16) and William (12) are both still scholars. There is no mention of Mary who would have been 18 – perhaps she was married or working away from home. Neither is Robert recorded as being at home that night – he would have been 14 by this time. Two more children have been born, Griffith (6, and a scholar) and Elenor (1). The place of birth for the whole family is now much more confused – although it is still all in Carnarvonshire. William is from Clynog, Margrate Llanbeblig, Jane Llandwrog, Margrate and William Llanwnda, Griffith and Elenor Llanberis, which indicates that census records are not always as reliable as they might be! There is still only one inhabited house recorded as being specifically Penyceunant.
The census returns of 1871 and 1881 were very confusing with a proliferation of families and information. There are now four inhabited buildings listed under Penyceunant.
In 1871 Margaret was in PCU, listed as 73 in the schedule, with some of her children still at home. There is no mention of her husband. William (22) and Griffith (16) are both working as slate quarrymen almost certainly in the Dinorwig Quarry. The quarry reached its peak of success in the 1870's when about 3000 men were employed on the galleries. Ellen (presumably Elenor) is now 11 and is a scholar. Margaret's daughter Margaret (26) has married William Hughes (33) and they have one child, Mary (1). Since William (Hughes) is also in the quarries and Margaret (Hughes) is a servant, presumably Margaret Griffith not only ran the house and farm but looked after her grand daughter as well!
Also in 1871 a further couple are noted as living at Penyceunant – David and Margaret Hughes, aged 26 and 20 respectively. They stay in the area until 1881, by which time they have two daughters, Jane (9) and Mary (5).
By 1881 Margaret, now 61, is listed as having a 'farm of 4 acres' and Elin (21), the only child still at home, is a shopwoman.
Yet another family is recorded in 1881 – Grace Williams (32) a widow, whose occupation is that of a dressmaker, and her two children Mary E. and David O. They too lived at Penyceunant Isaf.
(Grace's granddaughter, now 87 and still living very near to Penyceunant has been very helpful in tracing the post 1901 history of PCU. Thank you!)
Throughout the years from 1871 to 1901 the same family is recorded as being at PCI. From a researcher's point of view this is extremely fortunate because it makes it possible to say clearly who the tenants at PCU were. The Penyceunant Isaf family, the Williams', Owen and Mary, had four children, three lodgers and a traceable history of their own – but that is another story!
Obviously it is a thriving community and part of Gwaun Cwm Brwynog with Capel Hebron at its centre. Working in the quarry was the way in which the smallholders obtained an income, and long, hard and dangerous work it was too. The sheep on the smallholding provided meat, milk and wool and there was often a pig, goat or some poultry kept to supplement their food. At least once a week the horse and cart would be taken down to Llanberis to fetch other supplies, including coal. The hill at Penyceunant must have felt very steep at the end of a long day in the quarry for the men, or for the children, coming home from school.
It was at this point that the handwriting of the Victorian Census enumerators became a little too much so I decided to check the name files, and with beginners luck came across a reference to a Margaret Griffiths. Was it the right Margaret Griffiths though?
A request for the document (from the R.D. Evans collection), brought confirmation – and a shock. It was a heart-rending letter, written in English by an educated hand, to Capt Duff, (of the family who owned the land). Unfortunately it is not dated. Some of it reads as follows:
The Memorial of Margaret Griffith of Pen-y-Ceunant.

Humbly Showeth
That memorialict has heard with great sorrow that it is intended to remove her from the house she at present occupies to one in all respects inferior, and unsuited to her. And thus to inflict hardship and considerable loss to her.......
.......Memorialicts husband passed his life on this estate and died in its service.......
.......During his life he devoted his savings and his spare time to bringing this little place, from which it is intended to remove his widow, to what it is now, a neat and comfortable home for her and her children......
.......and she earnestly prays that he will be induced to prevent her being disturbed = at least until her children are better able to help her = and to allow her to remain in her little cottage, alike necessity for the comfort and happiness of her family, and endeared to her by the memories of her life.......

And Memorialict will ??? pray
& & &
Signed
Margaret Griffith

HOW DARE THEY!!! Evict Margaret and her family! I was outraged and I was also confused.
The death of her husband, William Griffiths, Penyceunant, aged 54, is recorded in the Register of Burials in the Parish of Llanberis for 1861 so he died after the census took place. He was buried on June 20th. by Mr Lloyd Williams. Presumably a notice of eviction was served after this, prompting the pleading letter from Margaret which must date from some time after 1861. What was going on?
At this point I explored the Index of the papers of R.D. Evans. There were over a hundred papers listed – some in Welsh, some in English. I looked through the extracts and became increasingly excited when I found more and more items directly related to PCU.
There were a whole series of letters from John Roberts (Shon Gloff) to his nephews, written in Welsh. One has some really significant information.
On March 13 1864, John thanked Robert for his letter (which incidentally had been written in English) and is glad he is working at the Post Office. He had been up to Pen y Ceunant and Jack was there, and William had been part of the opening (re opening?) of Capel Coch and that his mother was moving.........
WHAT? A new house for Margaret?. in 1864 – could this be PCU?
.......on the 25th she is departing to the new House. She has carried lots of things there in preparation and is about to carry, again, every day until the house is ready. The stonemasons are closing the boundary wall and making the pig sty and toilet.......but nothing has been improved on the land yet........perhaps she will be there by Easter, or, what would be best for her, she may not move until Whitsun.......

So Margaret having been evicted from one house in Penyceunant was moving to a new house - at Penyceunant. Why?
There are enough clues to provide a possible answer. Before his death in 1861 William Griffith had been employed at Penyceunant as a 'keeper' and a 'forester'. In 1871 Owen Williams is described as a 'keeper' and in 1881 a 'woodman'. It seems possible that Owen Williams replaced William Griffiths working in and around the estate and plantation of Coed Victoria. If this were so then he would have lived at PCI – the house which adjoins the woodland. The Vaynol Estate Survey of 1869 shows that Owen Williams lived at PCI, and Margaret Griffiths at PCU.
Perhaps while William was alive the Griffiths family lived at PCI. On William's death another keeper had to be employed and accommodated – so Margaret was evicted from the family home (PCI) to make way for the new forester – but was allowed to take over a new house (PCU) just up the track.
So Pen Ceunant Uchaf may date from Spring 1864, the date on the letter describing her imminent move, though there is no documentary evidence of her occupancy until the lease dated May 1868. This may be connected to the Survey of the Estate that was undertaken at this time. The valuation details noted for the survey refer to some other properties that were 'newly built' in 1869 and PCU does not warrant this comment. Perhaps it was a few years older. There is a record of Margaret paying rent in 1865, but frustratingly it is not clear for which property in Penyceunant!
(BUT, I like the 1864 date - the cottage with its new pig sty and tŷ bach and everything prepared for the family, and perhaps even the finely decorated mantelpiece and Margaret and the children carrying things up the hill from PCI to PCU. Can you imagine it? Pen Ceunant Uchaf comes to life!........)


The mantelpiece in the living room of PCU today.
There are many other documents, for example, Margaret's rent receipts, starting in 1877 and going through to 1884:
20 Jan 1883
Received of Mrs Margt Griffiths Three pounds, three shillings and ----- pence being half a years Rent from the 12th day of May 1882 to the 12th day of November 1882 payable to George William Duff Assheton Smith Esq. for cottage and enclosure near Ceunant Mawr.

There is also her accounts book with her signature "Margread Griffiths Pencyunat" (which at least shows us how she spelt her name and where she lived!) The book shows she bought mostly sacks of meal and flour, and the accounts were settled regularly, if not always in full. The cost of her purchases varied over the years but for example on Dec 16 1884 a sack of flour cost 36/- and a sack of meal 17/-. An exceptional buy was a saucepan on February 1st 1885 for the sum of 2/6. The accounts continue to March 16th 1889. She was clearly a careful manager after her husband's death, as she needed to be, bringing up the seven children on her own, and farming the 6 acres of land.
Another source of income for Margaret, and others in the area, was tourism. The carriage road from Caernarfon to Llanberis had opened by 1821 and by 1830 a toll road climbed the Llanberis Pass. The Royal Victoria Hotel advertised that they had 'well accustomed ponies which with ease and perfect safety carry visitors to the very summit of Snowdon.' In 1869 a railway line connected Llanberis with Caernarfon and yet more people came to the village. As today, there must have been a steady stream of people making their way up the mountain right past the Griffiths family home. For example, one of the visitors to PCU wrote:
Beddgelert Aug 24/70
Dear Mrs Griffith
Your dog Prince followed the coach as far as the top of the Llanberis pass, there he was given in charge and a gentleman on the coach promised to take him back to Llanberis this afternoon, we paid for his meal. I hope you will have him safely tomorrow. Poor faithful Dog.
We very much enjoyed the lovely ride.
Thanking you for all your attentions and wishing every blessing for you and yours
I am
Your sincere friend
L. L Hepburn

At least two more visitors enjoyed their stay well enough to write. On December 7th 1882, Mr George C Herbert from Market Drayton thanked someone from PCU for sending the 'fern root' . He has not been

'able to see the poor fern as the ground is covered with four inches of snow.' He goes on 'how very well the pass of Llanberis must look if you have snow too. I have seen it in every thing else except snow. Often enough in rain'.
So no change there then! He also asks after 'the pig Caesar was so fond of? He concludes by wishing 'A Merry Christmas to all at Pen-y-Ceunant.'
Mr Horsfell from Hebden Bridge wishes

'to be back in Llanberis . I think we never enjoyed a visit there so much that I say we must come again next year. I hope that you will be at Pen-y-Ceunant Cottage so that we may stay with you. Have you got Ellen home yet? I am quite sure you will be delighted to have her with you once more.'
Unfortunately this letter is not dated, but it does show that Margaret had visitors to stay with her in PCU. By 1881 Ellen is the only child living at home so perhaps the letter is round about that time, as none of the others are mentioned.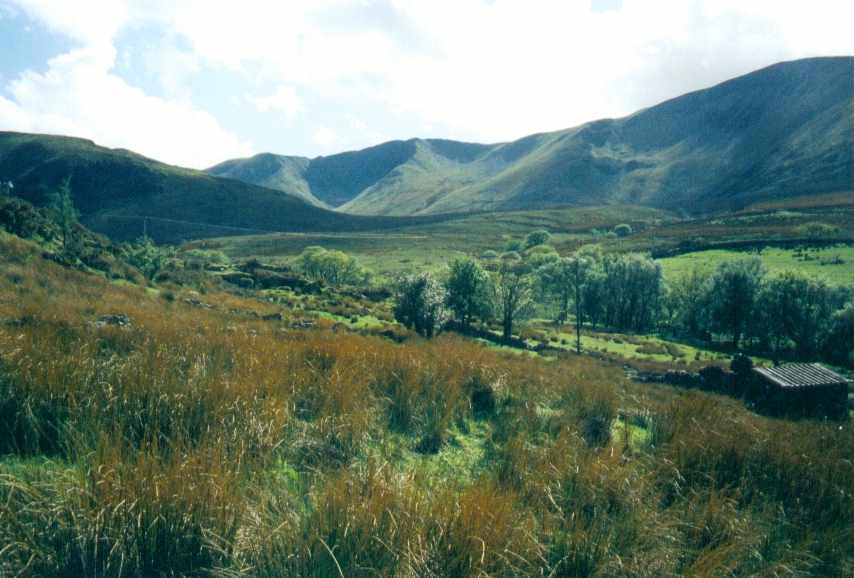 The view from in front of the cottage looking up into Cwm Brwynog
Other letters contain interesting Griffiths family gossip.
On December 31 1865 John Roberts writes again from Llanberis to his nephew, Robert:
.......Margaret has been to the Hafodty to pay the rent the day before, and has been enquiring about a memorial stone for your Dad. Mary has added £2 – 10 – 0 to it and this is enough to get a stone. He feels it is unfortunate that that his nephew has forgotten his Welsh and the family at home are living on porridge for supper, and living in need, and this after Robert has risen to be a shopman. He tells Robert he should consider every halfpenny spent and remember his brother William, with only one pair of shoes to wear and to remember about his mother too. Indeed John himself has had to pawn a 'two foot rule' which raised only a shilling, although it had cost 2/6d when new. There are more deaths in the quarry....... So life at Penyceunant is hard, as it is throughout rural Britain.
By October 3rd 1869 John Roberts has emigrated to James Villa, Poultney, Vermont with his family. Writing this time to his nephew William Griffith, he tells how life is much better in America with better money for half the work, though it is very hot in the summer and dreadfully cold between December and April! Writing of his family he tells of Mary, Jemima and Jane working in New York, Jane as a 'lady's maid' and Jemima as a 'waitress'. William is at a foundry in New York, Tom is in Pennsylvania and John is on the railway. Only Ellis, Catrin and Mary are still at home.
A year later on August 7 1870 John Roberts writes again to his nephew William Griffith, from Rutland, Vermont.
He has read William's letter over and over and is worried about his nephew's health. He urges him to drink 'half a pint of cow's milk every morning'. He has heard rumours about Robert, William's brother that he is in a piteous state after sinking to 'the lowest class......and is drunk in public along the streets of Liverpool'
Robert Griffiths of Penyceunant was buried in Nant Peris, on September 27th 1872 aged 25.
Other family papers collected by R. D. Evans trace other stories through the years, presumably all connected to each other but not necessarily to PCU. In February 1891 William Griffiths (now living at 63, Millwall London) writes to his mother at Greuor, Llanfairisgaer, thinking about her on the 3rd of February, her 71st birthday. It seems she has left Pen Ceunant for the kinder climate down near the Menai Straits. He sends his regards to all at Greuor, Pen y Ceunant and Griffith and his family.
Census details for Greuor Farm in 1891 show that Margaret is living there with her daughter Margaret whose first husband, William Hughes has died. She is now married to William Williams. Margaret Griffiths' grandchildren Mary and Hugh also live there, so it would be nice to think that Margaret Griffiths' old age was one of comfort surrounded by her family!
Enough of the Griffith / Griffiths family. I can't cope with the variations in spelling any longer so let's move to something more consistent - "Williams." So back to the census returns!
In 1891 PCU was occupied by a Williams family.
Hugh Williams, the head of the family was a stone cutter, probably again in the Dinorwig quarries. He was 40 at the time of the census, and was born in Bangor. His wife Ellen was 31 and came from Llanberis. They had three children, Jane (3), Hugh (1) and William (6 months). They also had a general servant (domestic) called Elizabeth Williams who was 16, and was noted as being employed. This implies she was not related to the family – or if she was, it was not being formally recorded! All of the inhabitants were Welsh speakers.
These were the tenants that were consulted by the Vaynol Estate Agent in 1894 to see if they had any objections to a railway being built across their land. In 1895 they would have watched the amazing rate of progress of the building of the track from Llanberis to the summit, a feat of engineering that was completed in 72 days! In January 1896 they surely saw the first train to the summit which left Llanberis at three minutes to eleven in the morning. The official opening on Easter Monday of that year would have been the time to join the crowds, to watch 'Enid' pull the carriages up the mountain, followed closely by 'Ladas'. It must have been a great shock too, to hear of the fatal accident that occurred on that first excursion, when 'Ladas' left the rails and plunged down the mountain side above Clogwyn. The PCU parlour walls would have heard lots that night!
In 1901 Penyceunant (Uchaf) was full of the Ll. Williams family. And yes I did wonder what the cryptic Ll was for. If I'd have been the census enumerator I wouldn't have accepted it. It's Llewelyn not Lloyd, and the confirmation for this is right there carved in the porch uprights at the front door:

.........Llewelyn Williams lived here for 13 years Sept quit 1909

So perhaps we know when this family arrived (?Sept 1896) and when they left.

Richard Ll Williams is recorded as being the head of the family and was employed (like most in the area) as a slate quarryman. He was 43 years old and the father of eight children – five boys and three girls. His wife Ann (39) is not recorded as being a "worker", presumably because she only looked after the family, house and garden, and the smallholding. Their eldest son Hugh, aged 22, also worked as a slate quarryman. The younger children (and their ages in 1901) were Ellis K. (11), Catherine D. (10), Richard Ll. (8), Thomas Ll. (4), George Ll. (4), and Edith (2 months). Richard came originally from Co. Down in Ireland, and Ann from Gaerwen on Anglesey. All the children were born in Llanberis. Unusually for the people recorded in the area this family spoke "both" languages. A member of the Chester Club who grew up in Llanberis has provided this photograph and is sure there were 11 children at PCU, but so far I haven't been able to check this and find out who the younger children were.


Richard and Ann Llewelyn Williams
1901 marks another aspect of the history of PCU – graffiti! On the porch uprights there is the very clear inscription noted above and a variety of fainter scratchings, mostly marking the heights of children, presumably the Llewelyn Williams youngsters. Topsy is recorded twice (July 1901 and May 31 1904) and Nelly twice (May 7 1902 and August 12 1904). Joh is there for Sept 16. I imagine these are family names for the various children. Amongst others there is also a BESSIE W scratched into the slate (perhaps the servant girl from the 1891 census?) and 'Boots' November 19?66. Boots has also inscribed his name inside on the hearth – on August 23 Thursday with an unclear date. From the others (post1967) I only recognise one CMC culprit - who shall be nameless but is now a part of the history of PCU!
The story of PCU in the 20th Century is more difficult to piece together as the detailed census information has not yet been released. I am not even sure that the Llewelyn Williams family did 'quit' in 1909 because of another of photo. The football team in Llanberis for 1925-26 quite clearly shows a Llewelyn Williams (Penceunant). Was the engraving from just one of the boys of the family leaving – perhaps Hugh was off to get married or Ellis to make his way in the world? Or perhaps the footballer was from Penyceunant Isaf? Could Richard Williams (Royal Welch Fusiliers) born in Llanberis and killed on the Somme battlefields on 7.11.1916, be the child Richard who was 8 at the 1901 census, and would have been 21 at the outbreak of the war and may well have joined up as most young men in Llanberis did at this time?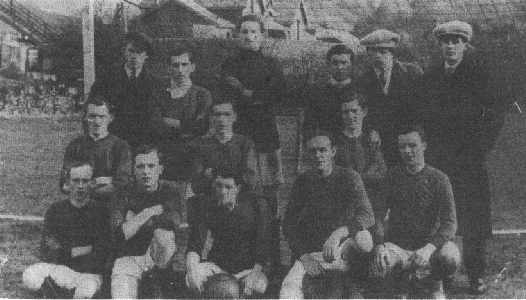 The Llanberis football team – Llewelyn Williams (Penceunant) is second from the right on the front row.
Some time after the Llewelyn Williams family left, PCU was tenanted by Owain Hughes, who lived there with his wife Catrin. This is probably the family who will have been very aware of the troops passing up and down the lane on their way to the Rifle Range further up the hill, in the late 1930's and 1940s. They were succeeded by their son, Owain Thomas Hughes who is recorded in the estate sale (1967) as the last tenant. He took over the property in 1961. His wife, Annie, worked in London in service before she returned to Llanberis to marry Owain and live at PCU. They had no children themselves but did have one of the earliest television sets in Llanberis, so the lads of the time used to visit PCU regularly to watch the football!
Annie continued to live there after the death of 'Naw Tom' (sometime before 1967), with Eleanor Morris. They then moved to Llanberis to join a large extended family down in the village. Eleanor's daughter – the last baby at PCU - continues to live and work in Llanberis today.
So that's the end of this story – for now anyway!! The main impression I am left with is that of Margaret Griffiths, thrown out of her home on her husband's death, but reprieved by the building of a new cottage up the lane in which she brought up her family for over 25 years. The many later families must also have loved their little home up the hill! Long may it be appreciated and cherished by the current owners, the Chester Mountaineering Club.